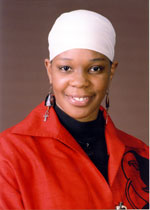 Aziza is a Harlem resident and long-time community activist, as well as a choreographer, performer and teacher whose work focuses on the development of community-based art. She majored in dance at the State University of New York at Purchase and went on to a stellar career in dance and theater, working with many varied companies and choreographers such as Alvin Ailey, the Joffrey Ballet, Dianne McIntyre's Sounds In Motion, Talley Beatty, Eleo Pomare, Chuck Davis, Carmen DeLavillade, and David Rousseve's Reality. Aziza toured as a featured dancer with Stevie Wonder and rap artists KRS 1 and Boogie Down Productions. On Broadway, Aziza danced in "Porgy 'n Bess," and worked as assistant choreographer on "Mule Bone" and "Rent." She was the choreographer for Off- Broadway production "Two Divas and A Dog."
In 1994, Aziza founded Def Dance Jam Workshop (DDJW), a non-profit inter-generational performing arts troupe and academic program serving deaf, hearing, and physically or developmentally challenged youths and their families. Def Dance Jam services include the DDJW Community Service Fellowship, the Sacred Circle Rites of Passage program, DDJW/Summer Youth Employment, Harlem SNAP (Special Needs Awareness Program) among a range of arts, academic, counseling and advocacy services. Aziza expanded her programming and opened a sister program of DDJW sponsored by the American Embassy in Cyprus, Greece and Istanbul, Turkey serving the special Needs Community globally. She is also the Founder and Executive Director of The Black Choreographers Project, Inc., an organization providing services to members of the dance community of color who are 50 years and older, which is funded by a poster she produced of 79 choreographers of color featuring Ms. Katherine Dunham.
As the Special Programs Director for New York's famed Judson Memorial Church for seven years, Aziza received ongoing funding from Yoko Ono for her work addressing women and violence. Programs such as "Licks n' Licks" Jazz Series, "Sister to Sister" project, an initiative to assist homeless women and their families, and the Dance of African Descent Downtown series. In 2007 she was the curator for the NUDANCE series at Riverside Church, and Artistic Director for "The City Celebrates Kwanzaa - 2008" and Passing The Torch - Black History Month Celebration - 2008 at the Museum of Natural History.
Ordained as an Interfaith Minister in 2003, she considers her self an Arts Advocate and uses her creative talents to make a difference in her community. Aziza has received numerous awards and citation's, including NYU's Samuel and May Rudin Award for Community Service, PASEsetter Award and the Fund for the City of New York's Union Square Award. She also received a Citation from the Mayors Office for Disability commending her work in the disabled community, she was also named New Yorker of the Week by NY1 News, and is featured in "Harlem Women Making a Difference." by Community Works a Photo Exhibit touring New York.
Aziza/Def Dance Jam Workshop presently conducts workshops and "edutainment:" performances for public schools, churches and non-profits.